Lime!
Description:
Lime is a command line utility that wraps other utilities (for instance, ping -t) and adds additional timestamping functionality.
It currently provides the following:
Per-line timestamp
Full timestamp inserted once per minute into the output (the per-line is just the time, maybe that is ambiguous)
Pressing the space bar will insert a full timestamp, a reminder of what the original command line is and some other information
Taking the original pun (line + time -> lime) way to far, color coded lime wedges are provided to give a more visual indication of the scrolling of the output. (Windows color codes, so it doesn't work correctly under Cygwin.)
Usage:


Usage: lime command [args_for_command]

For instance:  lime ping -t www.elifulkerson.com

... will run 'ping -t www.elifulkerson.com' inside of lime.

Lime adds line-by-line timestamps, a broader timestamp (mentioning for instance
the date) at a 60 second interval, and a corner-of-your-eye scroll indicator.

Pressing the space bar while lime is running will provide some information
and statistics.


Screenshot: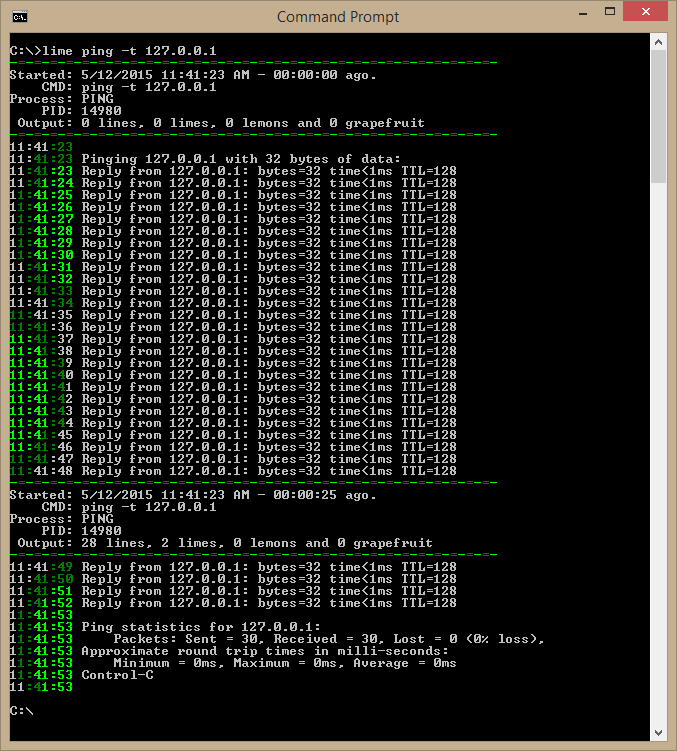 Download:
lime.exe